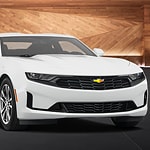 The Chevy Camaro gets better every year, and each model year gets better with age. Built to perform like a pro racecar, this ride has the performance DNA to place it above competition. Our team at Tyler Chevrolet examines Chevy Camaro performance features. See for yourself.
Powertrain Options
How fast can you go from zero to 60 mph in your ride? The Chevy Camaro gets it done in about 3.5 seconds, thanks to energetic powertrain options. There's a six-speed manual transmission with Active Rev Matching. It gives you racecar-precise control for tight cornering at high speeds, while the rev matching feature lets you control outgoing engine noise levels.
There's also an available 10-speed automatic transmission and yet another 10-speed automatic with paddle-shift capability. The engine lineup ranges from 2.0- to 6.2-liter displacements, with max available horsepower in the mid-600s.
Electronic Limited-Slip Differential
The Chevy Camaro's eLSD enhances its Performance Traction Management system and Magnetic Ride Control feature. Its eLSD sends power, torque and speed to the wheels as needed, preventing slippage and spinouts on both both paved roads and uneven terrain.