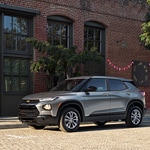 Here at Tyler Chevrolet, we're proud of our entire Chevrolet lineup. That's because we know that Chevy offers our customers consistent quality and reliability. The manufacturer has long been an innovator in engineering as well. This can definitely be seen in the new Chevrolet Trailblazer design features.
The Chevy Trailblazer is a small SUV. It's easily maneuverable and a blast to drive. You don't have to worry about sacrificing interior space. There's plenty of room for your passengers and all their stuff. Chevy manages this with its cargo management system that allows you to organize and arrange your gear, however, best suits your needs. Configurable seating ensures there's lots of legroom and provides ultimate utility.
While there are lots of practical design features to maximize comfort, Chevy engineers didn't compromise on aesthetics. This SUV is attractive and stylish, with a variety of trim selections you can modify to reflect your personal vibe.