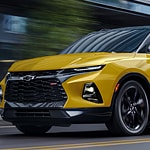 The all-new 2022 Chevrolet Blazer has finally arrived and we could not be more excited. This year's model is bigger, bolder, and better than ever before. Here's what you can expect from the exterior of the all-new Blazer.
-Side mirrors: The side mirrors have been completely redesigned for the 2022 model year and they are now larger and more aerodynamic.
-Grille: The grille has been completely redesigned as well and it is now much more aggressive looking.
-Headlights: The headlights have also been redesigned and they now feature LED technology.